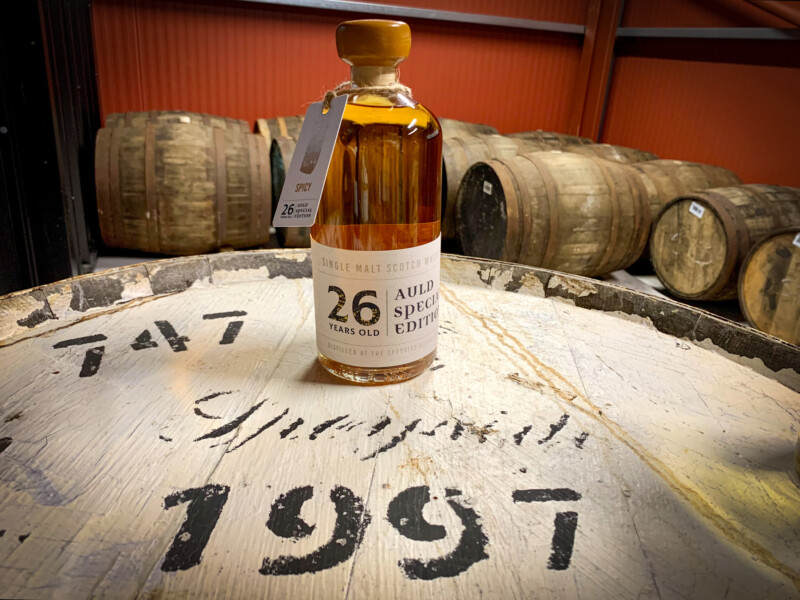 Every whisky distillery has a long time to wait before it can offer what is distilled on site. Some distilleries make gin, some sell a blended whisky, some make aqua vite. We have been blending and bottling since 2017 and now have the facilities to do this in-house at the Moffat Distillery. We are pleased to tell you about the first cask that entered our warehouse this year.
What is Auld Special Edition?
But first, a little back-story on our Auld Special Edition range. We developed the range in 2020 for a few single casks (two blended malts, one single malt). These were our 13 year old Spicy, 15 year old Fruity and 16 year old Smoky. We've since sold every bottle, but we were able to add a newcomer thanks to a man called Andrew Moffat.

A privately owned cask
Andrew contacted us several years ago with a cask that was held in the warehouses of the "Moffat Distillery". If you've been on one of our distillery tours, you might have heard the story – the Moffat Distillery was a postal address for the former Moffat Paper Mill in Airdrie. Inverhouse Distillers have appropriated the name "Moffat Distillery", though the two distilleries that were once there (Garnheath and Glen Flagler) have been closed since the 1980s. Now, it's only warehouses, and administration buildings. Nick often says that he has no objection to them using the name Moffat Distillery, except that it's not in Moffat and there is no distillery there!
Andrew's cask – given to him as a wedding present – had been tucked away for 21 years at the point he first reached out to us for help. It took 4 more years to get it into a bottle! When it arrived at the distillery, it had (understandably) lost a significant amount of alcohol since filling. Fortunately, it was still above 45% ABV (remember, if a cask drops below 40%, it is no longer Scotch!). It was the first cask in our warehouse: a beautiful bourbon hogshead filled in 1997 at the Speyside Distillery.
Bottling the cask
We sent samples to filtration experts to figure out which level would best suit the whisky. Upon taste testing the results, it was clear that unfiltered was the best tasting. So we took the slow, meticulous route of siphoning out of the cask, very carefully so as not to hit any of the sides and upset the char, or pull what was resting on the bottom of the cask.
Each bottle filled is with clarity that shines like the sun – a spectacular result we are very proud of. We are also pleased to be able to share some of this very special whisky on our online shop and in our distillery. If you come to visit, you must meet the cask, before it goes home to its owner.
The bottle is priced to enjoy, with no secondary packaging or bells and whistles. Just the good stuff straight from the cask. Aged 26 years and bottled at cask strength of 45% ABV. You can purchase this bottle while it lasts on our online shop at Dark Sky Spirits.